Introduction
It can be a real hassle putting an audio book into iTunes when it's split into many different files. The seemingly endless list of files makes listening to a book on your iTunes quite a chore. Lucky for you, there is an absolutely free software – Free Audio Editor, to make listening to books a pleasure again by combining all the separate files into one audio book file.
---
Step 1. Activate Audio Joiner
Launch Free Audio Editor. Click "File – File Merger" to activate the audio joiner window.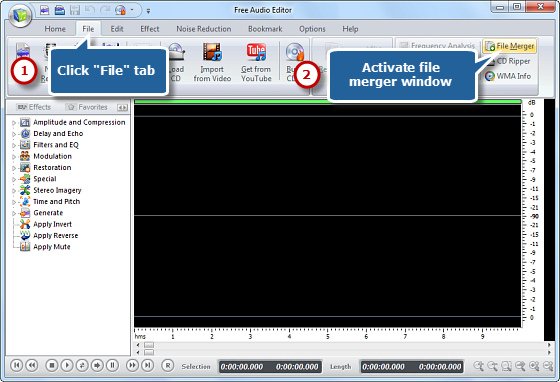 ---
Step 2. Add Audio Files
Click "Add Files" button to add audio files to the joining list. You can also use drag & drop function to both add audio files and queue the listed files. Click "Delete" or "Clear" to remove one or all the unwanted files.
Tips: The files will be listed in order of input by default. If you need to arrange the files in order, just drag a file to move it up and down in the list.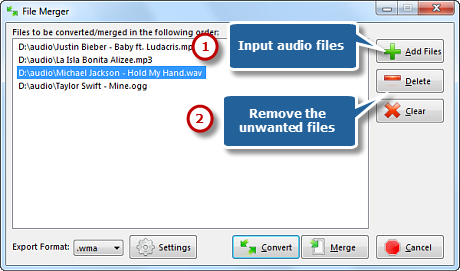 ---
Step 3. Preset Output Settings
Choose an output format from the dropdown menu of "Export Format" (There are MP3, WAV, WMA and OGG formats). Click "Settings" button to specify output settings. Many well-configured presets or configuration parameters of each format are provided to meet your demands.
Tips: If you are a preliminary user, the presets applied by easily dragging the slider would be very convenient and works for most situations; if you are familiar with the audio parameters and want to get some PRO quality, suit yourself and adjust the numbers.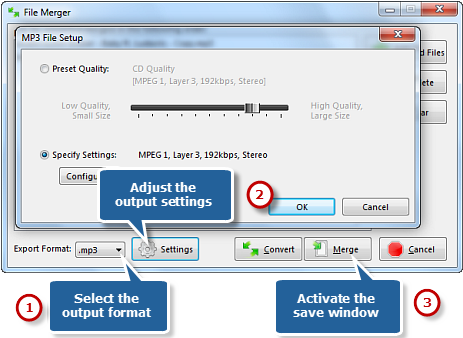 ---
Step 4. Start Joining
Click "Merge" to select the output folder and give a filename for the merged audio file in the browser window (You can choose "Convert" if you want to convert audio files). Then, click "Save" to start merging. The audio files are completely merged when the process bar reached 100%. Then, you can enjoy the merged audio on your music player.