Introduction
Would you like to identify and manage the MP3 and WMA files by title, artist, time, album name and more? Here, Free Audio Editor provides a solution. It contains both ID3 editor and WMA info editor and allows users to insert the track information of a MP3 or WMA file as much as they like for later checking.
---
Step 1. Input Audio
Launch Free Audio Editor. Click "Home – Open" to activate a browser window, in which you can select an audio file from your computer. Then, click "Open" to input the MP3 file to the program.
Tips: All the files of the supported formats can be seen in the "Open" window & if you want know other formats supported, activate the "Files of type" dropdown list at the bottom.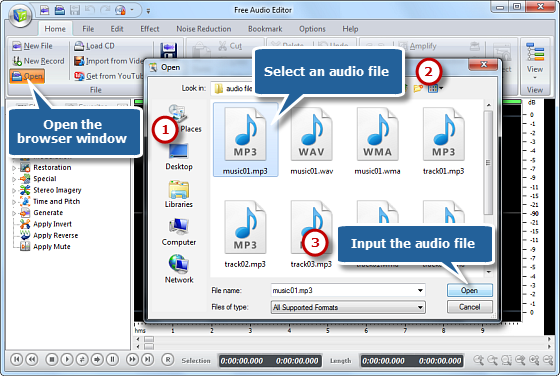 ---
Step 2. Activate ID3 Editor
A: Now click "File – Edit ID3 Tags" to activate the ID3 tags editor window. You can enter various information, such as title, artist, album, genre, year and comment to edit ID3 tags. Then, click "OK" and immediately you get the ID3 information added.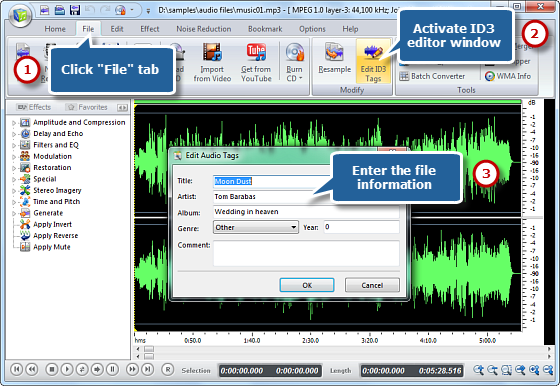 B: To edit a WMA file, just click "File – WMA Info" to activate the WMA Information window. Click "Open" to open the WMA file that you want to edit. You are allowed to edit the WMA Tag like Title, Artist, Album, Genre, and Year. The Maker List and Script List can also be edited. Then, click "Save" and the edited information will be automatically saved.
Tips: It is suggested that you add some ID3 or WMA info to your music if you don't find it troublesome. Many media player apps, mobile phones and some other portable devices can read these info inside, thus enabling you to manage the music systematically or at least recall who's the artist singing.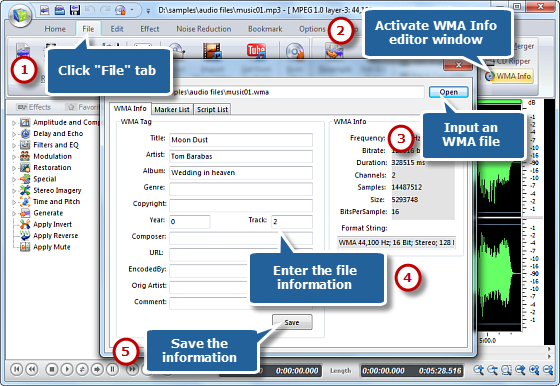 ---
Step 3. Adjust Recording Settings
Now go back to the "Home" tab and click the "Save" button to save the changes to the original file or click "Save As" to save the changes with a different file name and/or location. After that you can select the output folder and format as well as adjust the output quality.